Postgraduate Course: Designing Courses (EDUA11180)
This unit focuses on the design and development of courses, particularly but not exclusively at undergraduate level. It includes consideration of the vertical and horizontal relationships of courses with the rest of the curriculum and students' programmes of study. Emphasis is also be placed on the challenges for students in engaging fully with course content and processes, and how design decisions can enable the structuring and scaffolding of effective student learning.
The course gives participants the opportunity to critically examine key issues which arise and need to be resolved when designing new courses or redesigning existing ones. They develop a keen awareness of the underpinning theoretical considerations and their implications for practice. At the same time the requirement to apply their knowledge and understanding by working with the development of a particular course sharpens participants' appreciation of the affordances and constraints of contextual features, and encourages them to develop creative responses to real-life challenges.
Participants are encouraged to expand their repertoire of strategies and practical approaches by moving outside their familiar frameworks and engaging in investigation and discussion across disciplinary boundaries. The course also helps advance participants' ability to communicate in appropriate ways to peers, senior colleagues and students the underlying rationales for choices made between competing possibilities.
Learning Outcomes
Successful completion of the course will enable participants to demonstrate:
analytical engagement with key issues and writings on course design and development
alertness to students' perspectives, their orientations and the challenges they face
critical reflection on course purposes and their articulation, with course activities and assessment – both conceptually and within specific contexts
awareness of ways of monitoring, reviewing and taking forward course development
appropriate attention to the place of a course in an overall programme of study and
issues of progression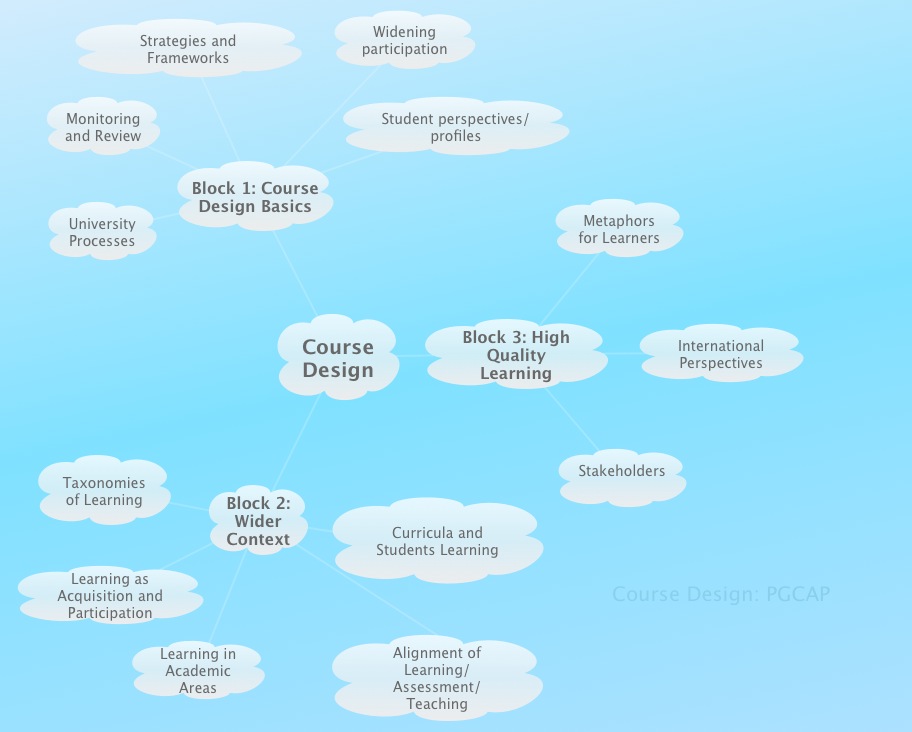 Aims
Aims of the Postgraduate Certificate in Academic Practice.
To introduce course participants to significant issues in relation to teaching, learning and assessment at a research-intensive institution.
To combine reference to theory and educational literature with practical application and make use of a wide variety of teaching and assessment strategies to demonstrate good practice.
To provide participants with the conceptual and theoretical frameworks needed to engage reflectively and critically with the question of how to promote high quality student learning within research-intensive settings.
To provide a pathway to professional accreditation by the Higher Education Academy.
Blocks

Background
The theory, theorist, approach, or tools used depends on the type of learning the instructor wants to activate (or facilitate, depending on what terminology one is using).
Theory and Theorists
Resources
Tools (either supplemental or primary instruction)
Learning Management System (LMS)
These are the tools that the course designer must consider when presenting their class (particularly online). These tools are often defined at the organizational level and therefore course designers must be aware of the guidelines their universities are generating to govern their use.
Personal Learning Environment (PLE)
PLEs are commonly used by teachers and those in higher education to keep up to date on current developments in their fields, to network, and to reflect. All of these are active elements of professional practice and these tools below are useful in establishing an optimal flow of research, discussion, and reflection.
Multimodal (Flickr, Pinterest, etc.)
Course Design Tools
The tools you use to build your courses should follow or be aligned with university policy towards educational technology use. If your university uses a particular tool to design and host their courses, your best option is to use that tool. Large tools like Blackboard or Moodle can be supplemented with other social tools, like Twitter or Flickr quite effortlessly.
Open Educational Resources (OER)
Need to create
Guides for getting started with specific tools
Guidelines for expected contribution/participation
Resources to link to RSS Reader
Bibliography
Visuals for how this course fits into certificate programme
Visuals for how activity links to learning outcomes/assessment