I enjoyed this article from the News portal for the eLearning Africa 2010 conference currently underway in Lusaka, Zambia. I had the good fortune of presenting and attending at eLearning Africa 2008 in Accra, Ghana as well as attending and presenting at a different conference in Lusaka, Zambia at the same conference centre as this year's eLearning Conference.
I find it be an extremely efficient event, hitting the right marks and themes and with only limited opportunism or overly aggressive vendors that seems to plague these types of events elsewhere. The focus is on solidly pragmatic matters, ICT for Development, ICT for Literacy, eLearning for Health, the Environment, that sort of thing. All exactly where ICT funds should be focused.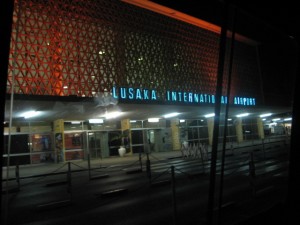 Further, it seems to be growing exponentially, which I suspect has a positive corollary to the following:
ICT partnerships with business are starting to produce some fruit (hardware)
Bandwidth is starting to penetrate (access)
Know how is starting to circulate (information literacy)
All in all, some positive signs coming from the African continent. I am an optimist and I honestly believe that Africa, specifically certain countries (Ghana, Tunisia, Botswana, Zambia, Tanzania, I am looking at you), is about ready to explode economically (in a positive way), hopefully reaching critical mass in terms of education leading to innovation (research outputs) leading to further investment, leading to further cycles of innovation. I generally believe it is going to happen; it is just a matter of when.
The article does a great job of showing that community building for eLearning is, at the beginning, still a decidedly personal affair. Buses of teachers coming from different regions, handshakes, mingling, talking, learning. It is still what conferences do best; bring like-minded people together, away from their daily work, to talk shop about the profession. To trade stories and best practices. To learn from one another. It is the first step towards transferring that conversation online in communities of practice. First there has to be trust and in Africa trust is, at least initially, a face to face state of play. Perhaps not always, but for now it is. Great story.
The group is the Kenyan North Rift eLearning Consortium. Perhaps they are using Google Maps as it now supplies driving directions for most of the African continent. Including all 2291 kms of the journey from Nairobi to Kenya.
To be able to attend the fifth eLearning Africa conference, which takes place in Lusaka, Zambia, next week, they have pooled their resources and rented a truck to take them 1200 miles through Kenya, Tanzania and Zambia to the Mulungushi International Conference Center in Lusaka.

The Consortium comprises private and public schools, teachers, individuals, Information and Communication Technology (ICT) service providers and NGOs who have come together to focus on the issue of eLearning and the use of ICT in schools and the community at large in the North Rift Valley, Kenya.

"This is a trip of a lifetime and it is hoped it will bring those members making the journey closer together," says Mathew Kituu, ICT Advisor to the Consortium and one of the organisers of this adventurous ride. "At same time, it will give members the opportunity to see for themselves and appreciate Africa's diversity and the challenges the continent faces in various landscapes and settings," says Kituu, commenting on their hopes.

The trip starts in Nairobi early in the morning of May 22nd, from where the group will head south for Eldoret, where another bunch of companions will climb aboard the huge blue vehicle. Eldoret is about three hundred kilometres from Nairobi. The journey then takes the group via Arusha all the way to Morogoro, Tanzania, where they will set up camp in tents and dine at a campsite.

The next stretch takes them to Mbeya on the Zambian border. Before crossing over to Zambia they will spend another night in tents out in the wilderness, camped at the foot of Loleza peak, (2656 metres above sea level) in the Poroto mountains in South Western Tanzania. The following day, May 24th, the final leg of the journey will see their triumphant arrival in Lusaka.

Some of the teachers on the truck will be presenting papers at the conference, so we look forward to hearing presentations packed with real-life experiences! We wish you all a safe trip and look forward to seeing you in Lusaka.
[googlemaps http://maps.google.com/maps?f=d&source=s_d&saddr=Nairobi&daddr=Lusaka,+Zambia+(Mulungushi+Conference+Centre)&hl=en&geocode=Fftq7P8dG8cxAimnSU3YchEvGDFMkpeyVALP9w%3BFVAoFf8dhwewASGoVivNH1fS1A&mra=pe&mrcr=0&sll=-8.230546,32.670581&sspn=26.555382,45.131836&ie=UTF8&t=h&ll=-8.233237,32.651367&spn=20.76416,28.125&z=5&output=embed&w=640&h=480]